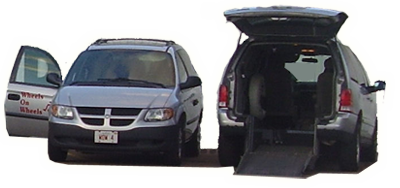 About Wheels on Wheels
Wheels On Wheels Inc, with its experience since 1989, provides Greater Moncton's 3 neighbouring communities (Riverview, Dieppe and Moncton) unparalleled quality in the area of special needs transportation.
In 1991 we became the first and only official special needs transit for the town of Riverview and over the past 7 years, we've been very privledged to have the same relationship with the city of Dieppe for their special needs transit. These years of service have enabled us to demonstrate our ongoing commitment to increase the quality of service and privide our clients an excellent customer experience.
Since 1993, we've been the special needs transportation providers for School District #1 and more recently, the University of Moncton (U of M) has entrusted us with their transportation needs for Moncton and Dieppe.
We have established a wide network of satisfied customers over the years and they have learned to trust us with their outings. Please see our Testimonials section to read some kind works from our customers and see we're "Making their outings a Pleasure".
We operate daily regardless of the weather conditions for clients who must venture out anyway.